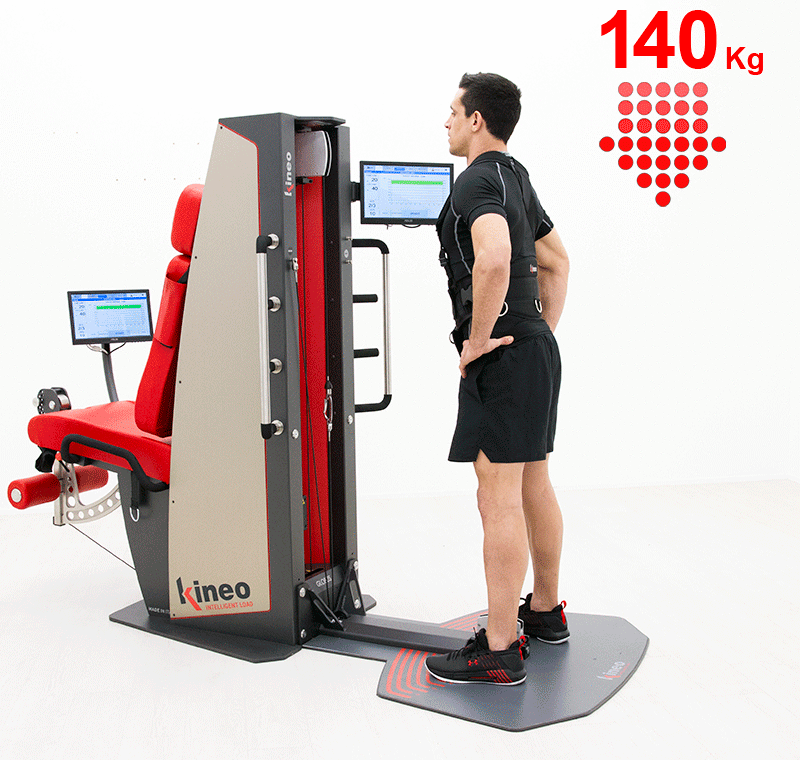 ECCENTRIC/CONCENTRIC BIPHASIC LOAD
Kineo allows you to work with DIFFERENT LOADS between the Concentric and Eccentric Phase to get maximum efficiency in training and rehabilitation.
THE ASSESSMENT
THAT YOU HAVE NEVER DONE
Isokinetic and Isometric evaluation in open and closed kinetic chain
Strength deficit between limbs
Eccentric maximal strength evaluation
Eccentric/Concentric strength ration
THE LOWER LIMB RECOVERY SPECIALIST
(INJURY PREVENTION)
​
Perform exercises and jumps without your own body weight with KINEO LEG PRESS BIPHASIC MODE.
Define the initial and the final load and experience the advantage to recover the main lower limb injuries like JUMPER'S KNEE, ACHILLES TENDINOPATHY AND ACL RECONSTRUCTION.
SMART VISCOUS – WATER TRAINING FOR A REHABILITATION WITHOUT PAIN
Kineo, thanks to the innovative VISCOUS method helps the user to perform the movements without exceeding the pain threshold.
VISCOUS adaptive load can be used in any workstation.
VARIABLE LOAD
FOR A PRECISE TRAINING
Kineo allows to BUILD A LOAD CURVE based on the specific needs of the subject in order to:
Increase the load at the most favorable angles
Lighten the load at critical points
Unleash your explosiveness!
Kineo improves EXPLOSIVE POWER and ELASTIC ENERGY without stress on your back and knees.
Kineo allows you to apply an overload during a jump but eliminates the weight on landing.
REAL-TIME BIOFEEDBACK TO REACH YOUR TARGET
Kineo provides visual and acoustic feedbacks during the exercise to guide the user towards the set goal.
An adjustable pulley with 4 meters of free cable, a fully programmable load both as a training and evaluation tool allows you any FUNCTIONAL EXERCISE, CORE TRAINING or AGILITY DRILLS you want.
"Kineo stimulates not only the muscular system, but also the motor pattern of the entire central nervous system. Kineo allows you to check every repetition and immediately check the quality of the work "
RUBEN OSCAR ARGEMI / Physiologist
«Kineo is not a machine, but a method that can be used at any sporting level. Kineo is one of the most effective innovations in the field of sports technology, because it combines extreme effectiveness with great ease of use. With Kineo, the data obtained from the test are immediately ready to be used.''
GIAN NICOLA BISCIOTTI / Responsible for player injury recovery - FC Internazionale
"Kineo is a special machine, because it allows you to make a precise evaluation of the athlete and to use the most appropriate working methods to solve any specific problem."
DR. BOB CHEN / Chinese Basketball Association and Chinese Golf Association
Request a Callback With a Kineo Specialist Today
MSc Advanced Physiotherapy Studies - UCD, Dublin.
​
BSc (Hons) Physioterapy.
​
Director and Lead Physiotherapist at GB Sports Physio.
​
Official distribuidor of Globus in Ireland.